My Ketogenic Meatzza. Perfect for those who want pizza without starch or gluten, but still want killer flavor.
Meatzza Ingredients:
Grass-Fed Ground Beef – 1lb
Muir Glen Organic Tomato Paste – 2/3 can (4 oz)
Organic Valley Mozzarella Cheese – 1/2 lb (8 oz)
Divina Organic Kalamata Olives Pitted – as much as you like
Fresh Organic Portabello Mushroom – 1/4-1/2 mushroom, thinly sliced
Fresh Organic Basil – 6-8 leaves
Simply Organic Dried Oregano – 2 tsp
Simply Organic Dried Basil – 2 tsp
Sea Salt – 3 tsp
Simply Organic Black Pepper – 1 tsp
Red Pepper Flakes – 1 tsp
Fresh Organic Rosemary – 3 tsp
Simply Organic Dried Fennel Seeds – 1 tsp
Fresh Organic Garlic Cloves – 2, crushed
Trader Joe's Grated Romano Cheese – 1 tbsp + 2 tsp
Organic Prairie Uncured Pepperoni Slices – 12 slices
1. In a small pot pour:
1 tsp Dried Oregano
1 tsp dried basil
2 tsp sea salt
1/2 tsp red pepper chilli flakes
2 cloves crushed garlic
Simmer for 10 minutes and then blend with a stick (immersion) blender or pour into a blender and pulse. This should be a fairly thick and chunky sauce. Pour back into the pot if you use a blender. Turn-off heat and keep warm.
2. Place 1 lb of grass-fed ground beef into a bowl and add:
1 tsp Dried Oregano
1 tsp Dried Basil
1 tsp Sea Salt
1 tsp Black Pepper
1/2 tsp Red Pepper Flakes
3 tsp Fresh Organic Rosemary
1 tsp Dried Fennel Seeds
1 tbsp Trader Joe's Grated Romano Cheese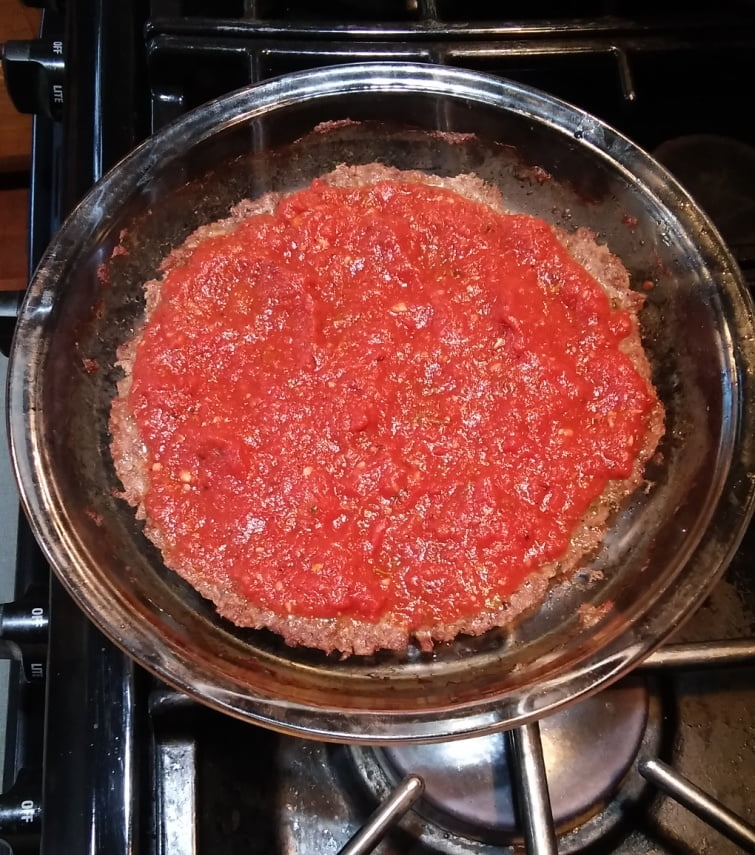 3. Blend all ingredients with your hands.
4. Place meat into 10″ Pyrex pie plate and flatten evenly, slightly up the sides. Bake at 350° for 10-15 minutes or until done. Drain all fat.
5. Layer first the sauce followed by the cheese; Then fresh basil; followed by the portobello mushroom and olives, and finally add the pepperoni.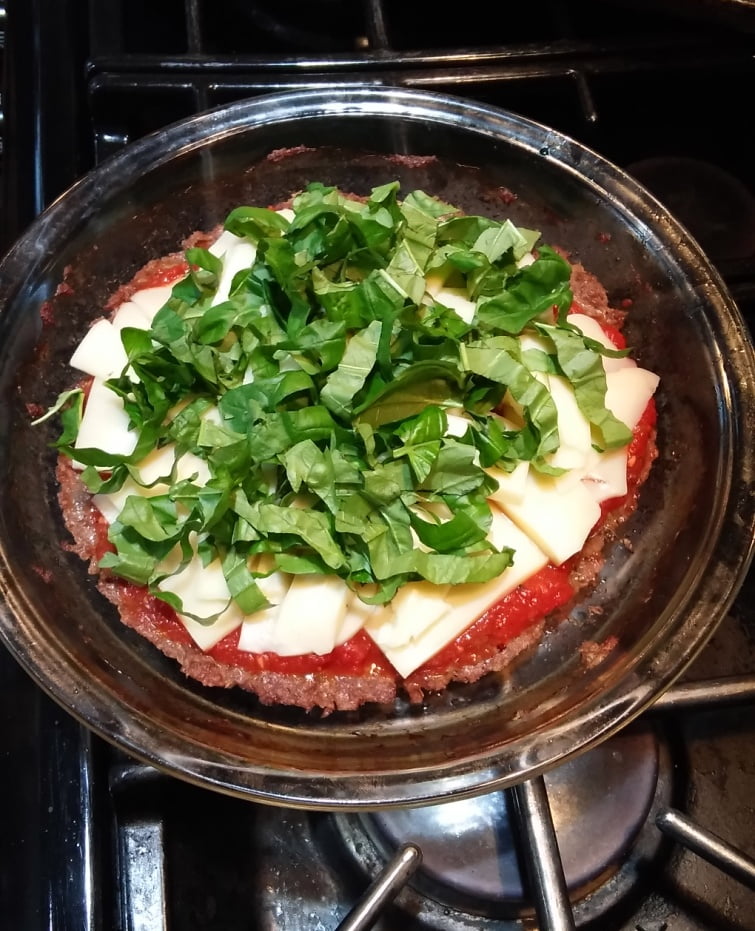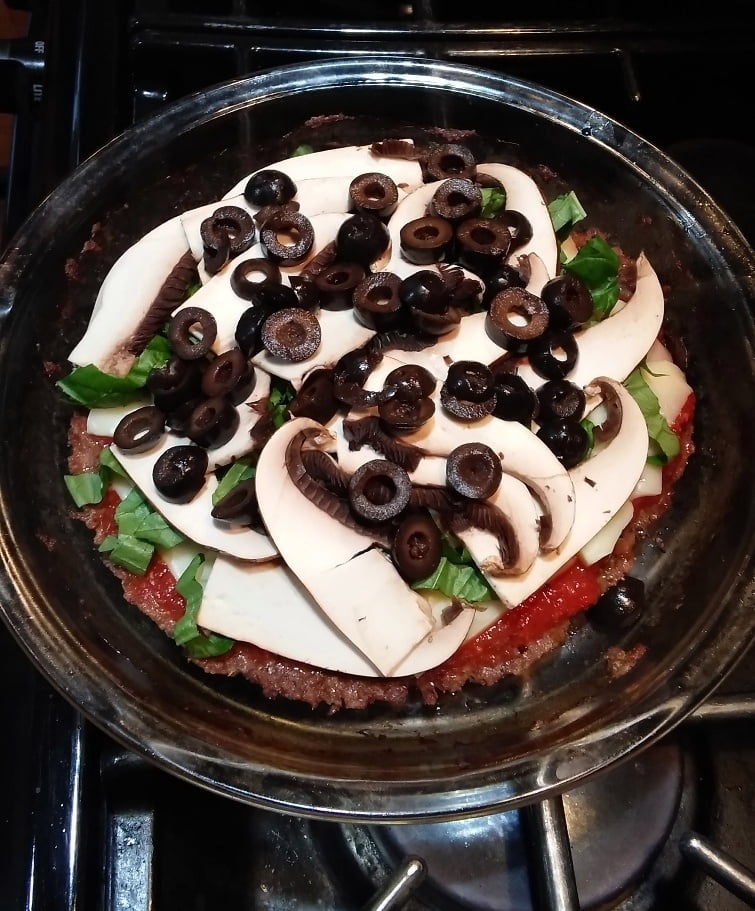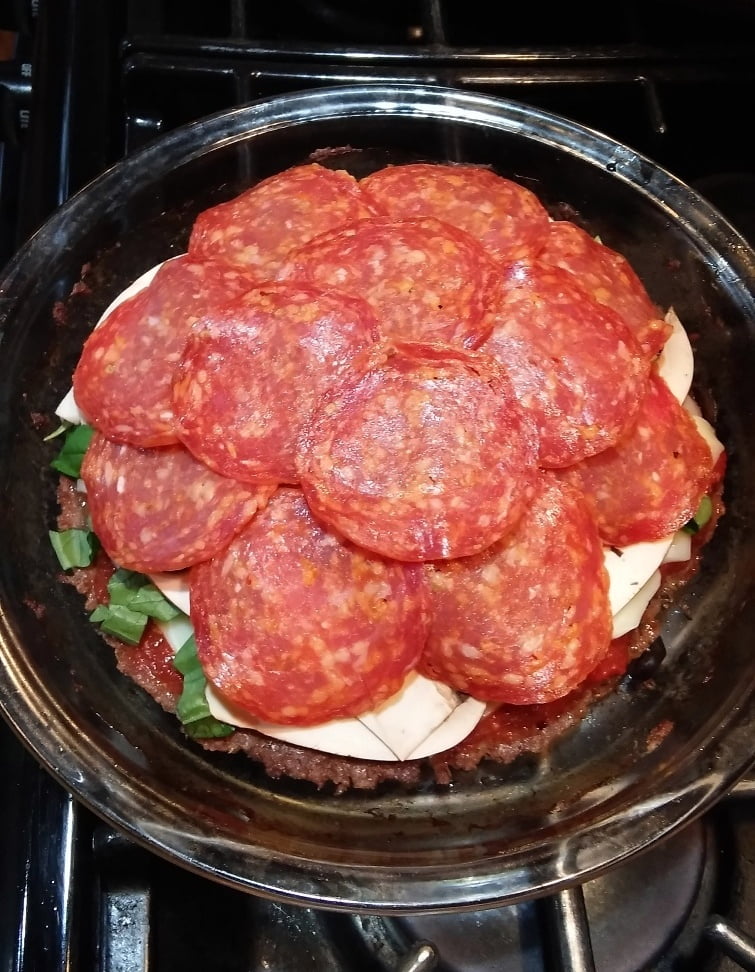 6. Bake at 500° about 10 minutes or until done.
7. Slice, plate, sprinkle with grated Romano cheese and red chili pepper flakes. Eat and enjoy!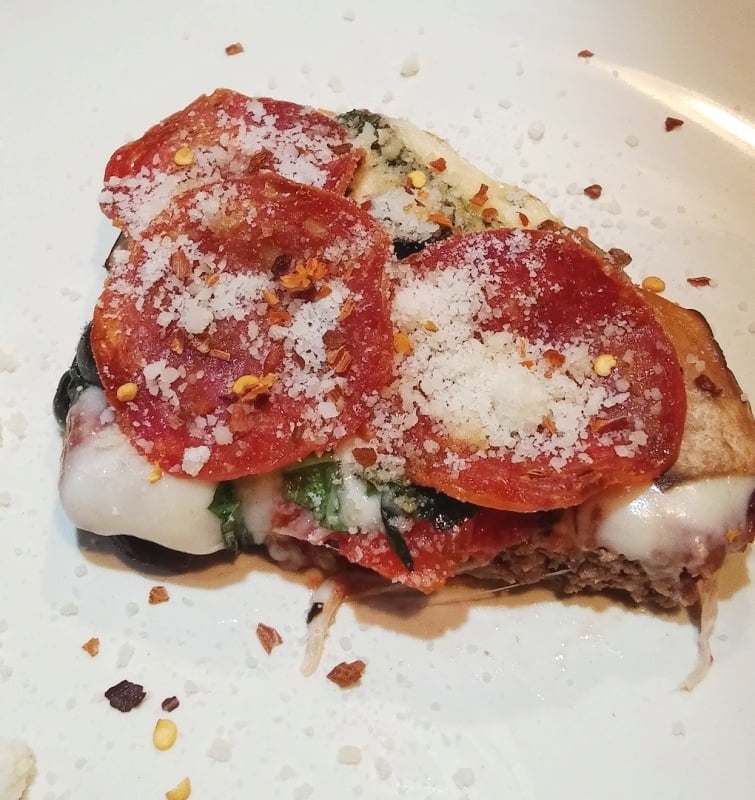 Latest posts by Advanced Healing Writer
(see all)