Swine Flu Up-date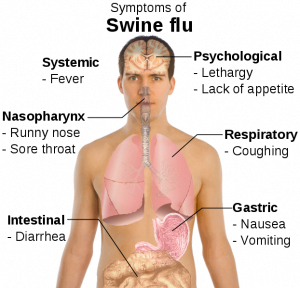 4/27/09 – Dr. Marcus Ettinger – Orange, CA
With the swine flu infecting more than 1700 people and claiming over 100 lives in Mexico, sickening people who live nearby in San Diego, and evoking responses from President Barack Obama and Governor Arnold Schwarzenegger, I am hoping you'll find this current perspective helpful.  Call me with any questions, concerns, or to make an appointment to get on the latest in preventative nutritional supplementation.  I have specific products for children too. (714) 639-4360
Below, you'll find some answers to common questions about Swine flu, compiled from the Centers for Disease Control and Prevention (CDC), local and state health departments, news reports and myself. At the bottom you'll also find links to other resources.
What is swine flu?
It's a respiratory disease caused by influenza viruses that cause regular outbreaks in pigs. People don't normally get swine flu, but it does happen, according to the Centers for Disease Control and Prevention. The scary part about this new strain is that it contains pig, bird and human genes, in a combination that has never been observed before anywhere in the world. This is no joke and everyone needs to take preventative measures to insure that this does not become an epidemic.
How is swine flu spread?
Swine flu viruses have been reported to spread from person-to-person, but in the past, the transmission did not continue beyond three people. It's spread through coughing or sneezing, and sometimes people may become infected by touching something with flu viruses on it and then touching their mouth or nose. (see "what can I do" below for helpful tips)
Can I get swine influenza from eating or preparing pork?
No.
Has it been reported in the U.S. before?
Yes.  From 2005 to 2009, 12 human cases of swine flu were reported in the U.S., none caused death.  This new strain is very virulent and we need to really stay on top of this with preventative measures. (see below)
What's the scope of this outbreak
U.S. officials declared a public health emergency on Sunday, much like the government makes when preparing for a hurricane.
At the time of writing this post, a total of 40 cases have been reported in at least five states, according to the Associated Press. Seven of these cases are in California in San Diego and Imperial Counties. No cases have been reported in Orange County, California Department of Public Health spokesman Ken August said today.
What can I do to keep from getting sick?
These suggestions come from CDC's website and myself:
As of now there is no swine flu vaccine. Any vaccine that may become available will be at least a minimum of 3-4 months down the road. There are everyday actions that can help prevent the spread of virus' that cause respiratory illnesses' like influenza. Remember, an ounce of prevention is worth a pound of cure. Take these everyday steps to protect your health:
Cover your nose and mouth with a tissue when you cough or sneeze. Throw the tissue in the trash after you use it.
Wash your hands often with soap and water, especially after you cough or sneeze. Alcohol-based hand-cleaners are also effective.
Avoid touching your eyes, nose or mouth. The virus can spread this way.
Try to avoid close contact with sick people. If unavoidable, ware a mask.
If you get sick with the flu, The CDC recommends that you stay home from work or school and limit contact with others to keep from infecting them.
Wipe down everything that you come in common contact with at the office and at home with rubbing alcohol – phone, door knobs, remote control, steering wheel, computer mouse and keyboard….
If swine flu cases become identified in Orange County, take precautions to avoid group events in confined spaces.
There are many nutritional and dietary options that help to boost the immune system and provide anti-viral protection. I will be stocking-up on the most effective products that help support the immune system and help support the body against viral infection. (714) 639-4360
What should I do if I think I am sick?
If you live in areas where swine influenza cases have been identified and become ill with flu-like symptoms, including fever, prolonged headache, body aches, runny nose, sore throat, nausea, or vomiting or diarrhea, you may want to contact myself or another health-care provider, particularly if you are worried about your symptoms.  Myself and other health-care providers will determine whether influenza testing or treatment is needed.
If you are sick, you should stay home and avoid contact with other people as much as possible to keep from spreading your illness to others.
If you become ill and experience any of the following warning signs, seek emergency medical care.
In children emergency warning signs that need urgent medical attention include:

Rapid breathing or trouble breathing
Bluish tint to the skin
Prolonged Headache
Not drinking enough water or fluids
Not waking up or not interacting
Being so irritable that the child does not want to be held
Flu-like symptoms improve but then return with fever and a worse cough
Fever with a skin rash
In adults, emergency warning signs that need urgent medical attention include: rapid or difficulty breathing, shortness of breath, pain or pressure in the chest or abdomen, sudden dizziness, mental confusion, severe or persistent vomiting.
More on the swine flu:
Interactive map: How the swine flu spread around the world
Is swine flu the big one, or the one that fizzles?
Latest posts by Marcus Ettinger
(see all)